(NewsUSA)

- Paul Reid's proclivity for pushing the boundaries in the wilderness extends to embracing what technology can do for people with diabetes.
Paul lives life to the fullest—and the highest. An avid outdoor adventurer, climber, and backpacker, Paul has completed a 5-day ascent of Mount Whitney, the highest mountain in the United States, including a grueling 24-hour technical ascent of its notoriously tricky eastern faces. What's more, he did it while successfully managing his type 1 diabetes.
More than 37 million Americans are living with some form of diabetes1, but advances in technology have made it easier for them to live a longer, healthier life.
Many individuals living with diabetes use a continuous glucose monitoring (CGM) system, which invaluably enables round-the-clock insights into their condition. "For example, when I'm backpacking through mountain ranges and it's 5-10 miles until camp, my CGM helps me have a better picture of how much glucose I need to get over the next few hills," Paul says.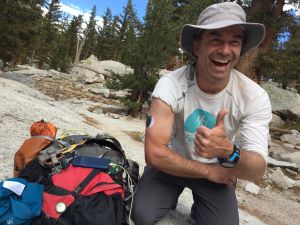 Paul, an animator by profession and a climber and outdoor trail guide by passion, was diagnosed with type 1 diabetes in 1986, so he has seen his share of technological advances. However, traditional, short-term CGMs can be cumbersome, especially for an active person like Paul. "With a traditional CGM, I need a bowling ball's worth of supplies for a two-week hiking trip," he says.
For Paul, Eversense, the only long-term CGM available, developed by Senseonics and brought to people by Ascensia Diabetes Care, is a game-changer. Two weeks of hiking supplies with Eversense means just a small transmitter charger and a little pack of adhesives, and every inch of space is essential when you are hanging from a rock in a tight, vertical space, Paul says.
The company describes Eversense as "the CGM for real life," and Paul agrees. "I can take Eversense off for a certain section of the climb, not worry about it being knocked off and my losing another sensor, and then easily put it back on as soon as I'm through2."
"At first, I couldn't believe that I only needed two sensors a year," Paul says. "But I can finally say goodbye to endless CGM replacements and supplies." A sensor is inserted in the upper arm by a trained health care provider, and then you are good to go for up to six months, he says.
The smart transmitter for Eversense is worn over the sensor, and it wirelessly sends glucose data to a mobile device. The Eversense app then displays real-time glucose readings that people with diabetes can use to guide treatment.
"I love being able to remove the transmitter, out on the mountain or just while taking a shower at home2," says Paul. He also loves the on-body vibratory alerts from the smart transmitter that are unique to Eversense, "getting alerted to glucose trends without looking at my phone is especially valuable when adventuring, but it's just as helpful if you are out walking the dog."
Paul continues to inspire others, and routinely leads outdoor adventure trips for individuals with diabetes. An Eversense user since 2019, he shows the world that diabetes doesn't slow him down.
"With Eversense I don't have to sacrifice other things in my life," he says.
For more information about successfully managing diabetes, visit EversenseDiabetes.com/get-started-today.
This is a paid advertorial
Paul Reid is an Eversense Patient Ambassador