(NewsUSA)

-

Made in Maine by Shawn Samuelson Henry
When the mill closes, Edgewater's economy and hope collapse. Hunter's father starts drinking and becomes an embarrassment to Hunter, trying to balance his girlfriend with life on the basketball court. Luna, who struggles with her facial disfigurement, attends in-person school for the first time in her 17 years, but hides behind her hoodie to escape her peers' ridicule.
A tragic accident sends the town spiraling into despair. In its wake, Luna and Hunter become the unlikely leaders of a fundraising project that attempts to make meaning of the disaster. Some Edgewater residents are fiercely opposed to the project, and their defiance becomes sinister. When Hunter and Luna stumble upon dark secrets, they realize the terrifying risks they are taking to knit a broken community back together. Purchase at https://www.woodhallpress.com/product-page/made-in-maine.

33 Letters of Compassion by Elaine Elizabeth
Have you ever struggled with trauma or know someone who has? This is an inspiring memoir that will motivate you to embark on your own journey to healing and self-discovery. This book promotes the value of mental well-being and self-compassion. It is a collection of stories about patience, recovery, and personal development.
This book takes the reader on a journey through the author's own inner thoughts on difficult emotions. Readers will discover: the path to self-discovery, the value of compassion and the value of self-empowerment and self-care.
This is for anyone who experienced trauma and those who are trying to get past the past and start rebuilding a life full of joy and purpose. Readers can find joy and happiness the moment they start focusing on their holistic well-being.  Purchase at https://bit.ly/44eRQI8.

The Town That Time Forgot by Elizabeth Donley Leer
Submerse yourself in the supernatural and mysterious as the mystery of Oakwood unravels before you, in this new gothic horror novel. In 1944, Oakwood's town council is desperate to save their young men from being lost to the devastation of the far-reaching effects of World War II, and as such make the unconscionable decision to make an evil deal with an agent of the devil in order to protect their own children, the town's citizens and peaceful way of life.
Little does journalism student Jim Norton know, forty years later in 1984, that his decision to write an article for his school paper on the peaceful town of Oakwood, which seems to have been able to have escaped the pitfalls of progress, will lead him down the treacherous rabbit hole that just might end with his demise. Purchase at https://bit.ly/3pgTGcK.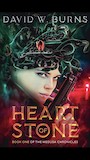 Heart of Stone by David W. Burns
With snakes for hair and a gaze that turns men to stone, Kyra Anastas is a modern-day Medusa hiding in Chicago, making her living as a hitwoman. Feared even by other monsters, Kyra lives a bitter existence. But when a dying billionaire asks Kyra to protect her daughter from supernatural dangers, Kyra is given the chance to be something more than just a dealer of death.
Now Kyra is on the run from mythological killers who will stop at nothing to destroy the girl. With nightmares like a Manticore stalking them through the stadium during a basketball game, a Basilisk turning dinner into a death trap, and a Siren popping out of her bathtub, Kyra finds no place is safe. As the assassins close in, Kyra realizes her only chance is if she faces all her demons. Purchase at https://bit.ly/44e8NmK.
BookTrib's Bites is presented by BookTrib.com, where readers come to discover.